Friend of mine loaded up my truck with stuff she didnt want when I went to get the lawn mower I bought from her. One such item was pair of new Stanley loppers. She had bought them and they arrived dull. I was piddling with some of stuff I dragged home, and took apart those loppers to see if they could be sharpened. Did best I could, feathering out the edge like I would a knife. Amazing improvement. She didnt want them back as she had already replaced them with new pair Fiskars.

But got me thinking about pruners. I have pair goat hoof trimmers I bought long ago when I had goats. Like a small pair bypass pruners. I find them, will sharpen them same way. They cut nice over the years but could use a sharpening.

And got to looking at pruners. Apparently if you want decent ones that work out of box, you spend $50 to $60 for pair Felco or ARS. You may or may not get lucky with cheaper versions. Then got to looking at vintage pruners on ebay. They are collectible, who knew.... Wondering how they would sharpen. Tempted by ancient pair PLEXTO. But instead found old pair Craftsman. They were bigger over 9 inch. In good shape except somebody had tried to sharpen them with file or something. Anyway not wanting to hunt up old pruners in my junk, I probably have couple pair dull as dishwater somewhere. I bought the Craftsman for $15 and on the way. At very worst probably could resell them as is for part of my money back. But dont see any reason they wouldnt sharpen and work fine. No more gamble than buying cheap pair of some generic Chinese pruners. Which also probably need sharpening to be useful. And the Chinese ones have no intrinsic value. Modern ones by way seem to have minimal amount metal and lot extra plastic on handles.

I did find an $8 pair of 10" pruners on Amazon. Thats intriguing. Dont see 10 inch pruners very often, they are bit longer than the Craftsman and have 1.7" capacity. Most average/small pruners have capacity of half to three quarter inch.

And the pruners got me in discussion about machetes or what I grew up calling corn knife. I remember as kid the old corn knives were tempered and kept edge pretty well. Until Dad bought new one in late 60s that apparently was just mild steel. He wasnt best pleased. Today I got in discussion with some guy from Panama. He said there machete sold for $5 but were mild steel. That people there bough the $5 machete and a $20 high quality file and just sharpened them ever ten minutes of use. Doesnt make lot sense to me, but suppose if you lose a $5 machete or its stolen, then not big worry. I did find a tempered spring steel machete online, but my gosh that thing was $100. Yea lose that or have it stolen and you will feel bad.
I found my goat hoof trimmers I use as pruners.  Name on them is Snap-cut #120.  And got that old pair Craftsman pruners I bought on Ebay.  Both sharpened easily.  The Craftsman for sure wont bend or break, and  probably outlast me but they arent the most comfortable pruners to use.  The Snap-cut are comfortable.  Nice to have a renewed edge on them.   And there is a $3.55 pair generic Chinese pruners on their way.  I was curious.  And I found a rusty old pair of Pexto pruners.  I had debated between the Pexto and the Craftsman.  The Pexto looked more comfortable to use.  Both are all metal and vintage.  Finally decided to see what Pexto are like. Ordered an old rusty pair for $11. They open and seller says spring is good. Just have to be taken apart, wire brushed to within inch of their life, then sharpened and reassembled.  

That will be it on pruners I think.  Like say the big Craftsman pair and the Snap-cut small pair pretty much all I need.  Both were easy enough to sharpen.

Unless I run across Mom's pair WISS anvil pruners.  I remember those as a kid, they somehow had lot leverage that even a kid could use them.  Well when they were sharp.
Last edited by Admin on Fri Nov 16, 2018 3:17 am; edited 1 time in total
I will get this lopper/pruner fascination worked out sooner than later, hopefully. Did run into lot positive things said about Tabor loppers. So looked at Tabor pruners for $10 on Amazon. Lot positive response on them. If looking for cheap pruners that have good chance working well without first properly re-sharpening them, this might be them.

Lot negative comments on current crop of Corona and Fiskar low end pruners now made in China. these brands maybe have lost their focus. This from very brand loyal users of the old American made versions. Rule of thumb, if you can resharpen the cutting edge better than factory, then cheap pruners maybe ok and brand probably doesnt matter that much, otherwise you are wasting your money. Just as well buy the Felco or ARS pruners and be done with it. Five pair of the cheapies and you have quality pair Felco or ARS paid for.

You also have no guarantee whether even a sharp pair pruners will be comfortable to use without actually using them. I took Craftsman out today. Quite sharp at this point, but it was painful to try and use them to cut anything bigger than 3/8 inch. This from a nearly ten inch pair pruners. Just bad ergonomics. They are really sharp, can cleanly cut single blade grass, twigs, whatever, long as its small.
Got my new Chinese $3.55 bypass pruners I won in auction off ebay.  Wow what a surprise, they are lot more substantial than I expected.  I figured some cheap weenie pruners made from brittle metal.  These were even sharp enough to cut.  And more comfortable to use than the Craftsman....  Though will say I gingerly moved my thumb over the cutting edge.  My thumb was in no danger....  So yea they could be improved with a sharpening.  Still amazing value for the money.  All cast forged metal except couple minimalist rubber sleeves on handles.   I looked and this pruner is buy it now for $6.  Can get them on Amazon for $9.  
No cheap pruner comes well sharpened, its like buying a cheap knife.  But if you can sharpen them properly, they will do ok.  Just stay away from any with bunch plastic.
Now I kept wondering about anvil pruners.  They have their uses especially cutting dead wood.  Mom had a pair of WISS.   The other old American manufacturer was Seymour-Smith.  Both were fairly cheap, everything but the blade and anvil was stamped steel.  When blade is sharp, this is ok.  When blade gets dull and somebody with some hand strength tries to force it, the stamped steel bends and the blade is no longer in alignment.  Well Corona and Fiskars sell pretty much clone of the old WISS only with some rubber grips on handles.  But made in China and apparently sharpening the blade prior to shipping not a big concern  in the factory.  I saw a Corona AP3110 used on ebay.  Hadnt been sprung yet. Kinda tempted at $9 but rather give half that if I have to sharpen it.  
Meh, dont need it.  May even have remains of mom's old WISS around somewhere.  Though think I either tried sharpening it back before I knew what I was doing or I sprung blade forcing it.  But was looking.  If you really want a good anvil pruner, can get a Felco F-31 for $40 if you check around, $50 to $60 if you dont.  Thats one time its worth parting with money, that thing puts the cheaper anvil pruners to absolute shame.
https://www.youtube.com/watch?v=_gf-5HaiLA4
Hmm, guess this is going to be my own personal test of pruners.  Got pair Corona anvil pruners.  Used to be USA model 89.  Now AP 3110 from USA to Taiwan to Peoples Republic.  Got used Taiwan pair that hadnt been sprung.  Dull of course.  Sharpened them, and pretty much as expected.
Also got $8 pair Black+Decker.  Not made by BD, but Bond Manufacturing and made in vietnam.  Knockoff of Felco #8. sold under dozens of names, even found a Fiskars version.  Ok dull out of package.  After ordering found they had run of them with porous castings and handles snap.  Mine once I sharpened blade, ok and actually fairly comfortable. Seemed to be ok castings, didnt find cracks and didnt break in testing.  Doubt they last long term, the interface of the alloy handles and the steel blade/anvil not nearly as robust as the Felco. I suspect that Harbor Freight knockoff-clone of Felco2 hold up better, they copied the Felco closely and parts are interchangeable with the Felco.
Got $11 pair Pexto.  These most likely pre-WWII as Pexto company ended in 1950.  Heavier than modern but good metal, good design.  I  cleaned and sharpened them.  Cut good, comfortable.  Until they didnt.  At first thought they bent but then noticed pivot bolt was loose.  Threads stripped on bolt.  I will have to make one from grade 8 or grade 10 cap screw.  1/4" bolt wont fit.  Have to try M6.  Now this was no doubt English measurement, NF thread, but apparently some oddball size so people would have to buy replacement pivot bolt from them.  Something not possible for last 70 years.  I was amazed how easily and well they cleaned up.  Even got the blade unscrewed from handle to sharpen, which given age didnt figure likely.  Makes sharpening lot easier though.
I will mention I looked for pruner pivot bolts in search.  Felco and Corona do sell replacement bolts for their pruners.  I didnt get as far as checking size of bolt as Felco wanted $25 for the bolt.  Corona only somewhat less.  They obviously dont intend anybody to actually repair their pruners with pricing like that.  Seriously another pair of antique Pexto would be cheaper.  Or another whole new Chinese set pruners to steal bolt from assuming you found one with size bolt needed.  Like say I find right diameter cap screw, should do ok.  Or I could possibly sand down residual threads on pivot bolt and rethread it to M6 and use M6 nylon insert nut.
And I had forgotten, got his pair of pruners off Amazon for $4 shipped.  https://www.amazon.com/Pruning-Shears-Juelinebo-Trimmer-Titanium-Clippers/dp/B074DHJ4H7? Wrong pic in ad, not ratchet, and not bypass.  They are a curved anvil type.  Amazingly they maybe one of the best of pruners I have bought, least best $4 buy it now pruner.  This pruner sold in different colors and different names, but all same blade and castings.  Its really pretty good design, looks something like a small version of those ratchet PVC cutters but like say not ratchet. Some of the higher price point versions have more padding on handles and brighter colors.  Saw one as high as $25.  This one I bought seems sold out but there is another clone under another name that looks identical for same $4.
https://www.amazon.com/dp/B079RJQKZY
 Mine was sharp enough for use, but be aware any cheap pruner has high likely hood needing sharpening new out of the box.  And if you want longevity, would need to keep it sharp.  This is alloy castings in cheapo model, but gets away with it.  Breaks all the rules but still ends up being a functional tool.  No idea how long it actually lasts as I have just gotten it.  Look some like the antique Pexto are just flat out built to last multiple life times if you take care of them, even survive if you dont, long as you dont go bury them in garden or landfill.  Modern stuff not that rugged.  Needs more care to last.  Cheap stuff really needs kid gloves and guaranteed to need attention to keep it usable.
Oh another bit info, Felco sells their model 5 as entry model, available under $30.  Just saying before you buy cheapie for $25, might consider model 5.  All steel including handles, unlike the other Felco models.  Never see it mentioned.  But if I were giving $20+ with money important, I would have it high on my list.
Ok, three options.  One, grind remaining threads off end of existing pivot bolt and rethread to M7,  Second use M7 cap screw and flatten sides to fit the Pexto.  Both those need M7 nut, preferably one with nylon insert, but using loctite ok I guess.  Fourth is something called a shoulder bolt.  I ordered one where shoulder is 8mm diameter and 12mm length with threaded end that is M6.  The shoulder have to be sanded a bit and flattened on two sides.  Its also higher strength bolt.  Its like $1.32 on slow boat from China.  

I have both a die on way and one of the shoulder bolts.  I need to look at town if M7 nylon insert nut available. They are available online but like $7 for two.  The M7 cap screws are available, as mentioned, at my local AutoZone, probably elsewhere.

I suppose one has the M7 die, and somewhere to get a nylon insert nut that size. Then could just make one from grade8  5/16" bolt.  And if M7 is super problematic, then grind down bit more and thread with 1/4" NFS.

I do like the Pexto pruners.  They have a comfortable heft to them that modern pruners dont.  So worth it to me to deal with the stripped thread pivot bolt.  You cant go crazy on repairing something like this or just well buy another pair Pexto pruners with good bolt.  Though obviously this pivot bolt is their weakness.  Maybe not hardened properly?

I remember as kid Dad had pair slip joint pliers with bad pivot bolt.  Back then you just went down to local hardware store and they had some generic ones.  And it was like 25cents or something, trivial amount.  Stuff still repairable back then, but even then moving well towards throwaway mentality with items intentionally made not economically repairable.   People have found workarounds for some things, but even then they dont put effort into making a long lasting one.  The duct tape and baling wire repairs in other words.  I get big kick out of the challenge of out engineering the original engineers modifying their original design.  Usually they arent stupid, they were just told to design for cheapest production, first and foremost.  I have feeling not lot of testing of prototypes goes into most designs.  Durability not big consideration, just long enough to not to discourage customers rebuying that brand.  They are also trying to predict customer reaction.  Their end goal is to make money, so dont build extra quality into something if customer at that price point will buy it anyway.

And customers are lot times lazy and dont try to repair stuff.  Easier to just buy a replacement unless its very expensive.
Got that French made pair antique parrot beak pruners from UK. Ok, I can see maybe small advantage to cutting small stuff, even partially dull. But if your bypass or anvil pruners are razor sharp, they will do just as well.
Ok, just little update, time passes waiting for slow boats from China. Anyway, the Pexto pruners, I the pivot bolt threads as I mentioned were stripped. I got a unbelievably cheap M7 (7mm) die as next smallest size. You cant rethread to same size as metal isnt there. It was super easy and looked like good threads. I ordered two nylon lock nuts off Amazon for $4. Seems M7 is uncommon size and rare enough to be expensive to buy either bolts or nuts that size. But it worked. It seemed not as tight of a fit between blade and anvil but it worked. I tried shimming it but didnt help much.
In meantime I had run across a really cheap pair of vintage Eclipse pruners. Basically a knockoff of the Pexto design only rivets instead of bolts and slightly smaller blade. It was cheap cause somebody had replaced the pivot bolt with a 1/4" grade 2 all threaded bolt. The two halves of the pruners were just slip sliding around on it. But as alternative option if I couldnt thread the exisiting bolt in the Pexto was to order a cheap 8mm shoulder bolt from China. Uses a 6mm nut. I had ordered one just in case. Really cheap and it takes forever on the slow boat so just in case I needed it. The 8mm shoulder fit well into half the Eclipse pruners, but the other half required a round with two flattened edges. So got out grinder and flattened them a bit. Bingo, fit and the 6mm lock nut (whole lot cheaper than the 7mm nut) fit perfectly. So the blade is already sharp on these, somebody had sharpened them and tried to use them with the sloppy pivot. But like Pexto apparently somewhere along the line they had tried to force them to cut while dull. This bent the blade a bit. Nothing to lose, I tried bending it back a bit, then bit more. Bingo, close tolerance and it cuts great. In for a penny, in for a pound, got out the Pexto and tried bending its blade a little bit. Bingo again. I know on more modern stuff the blade would be too brittle and would most likely snap. Both the Pexto and Eclipse work very nicely now.
I cant recommend these high tensile shoulder bolts highly enough as replacement for pivot bolt no longer available. Probably work on modern stuff if you dont want to pay the crazy high prices they want for such replacement parts.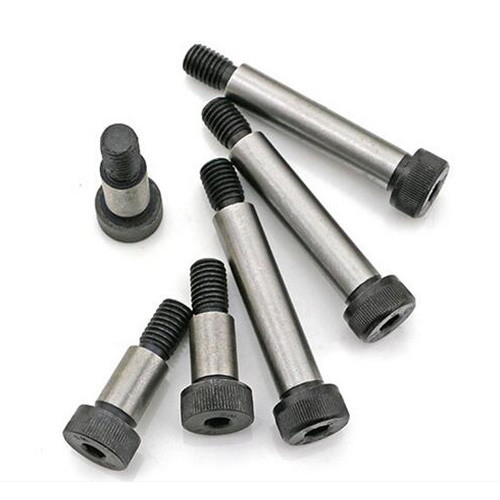 ---
Permissions in this forum:
You
cannot
reply to topics in this forum